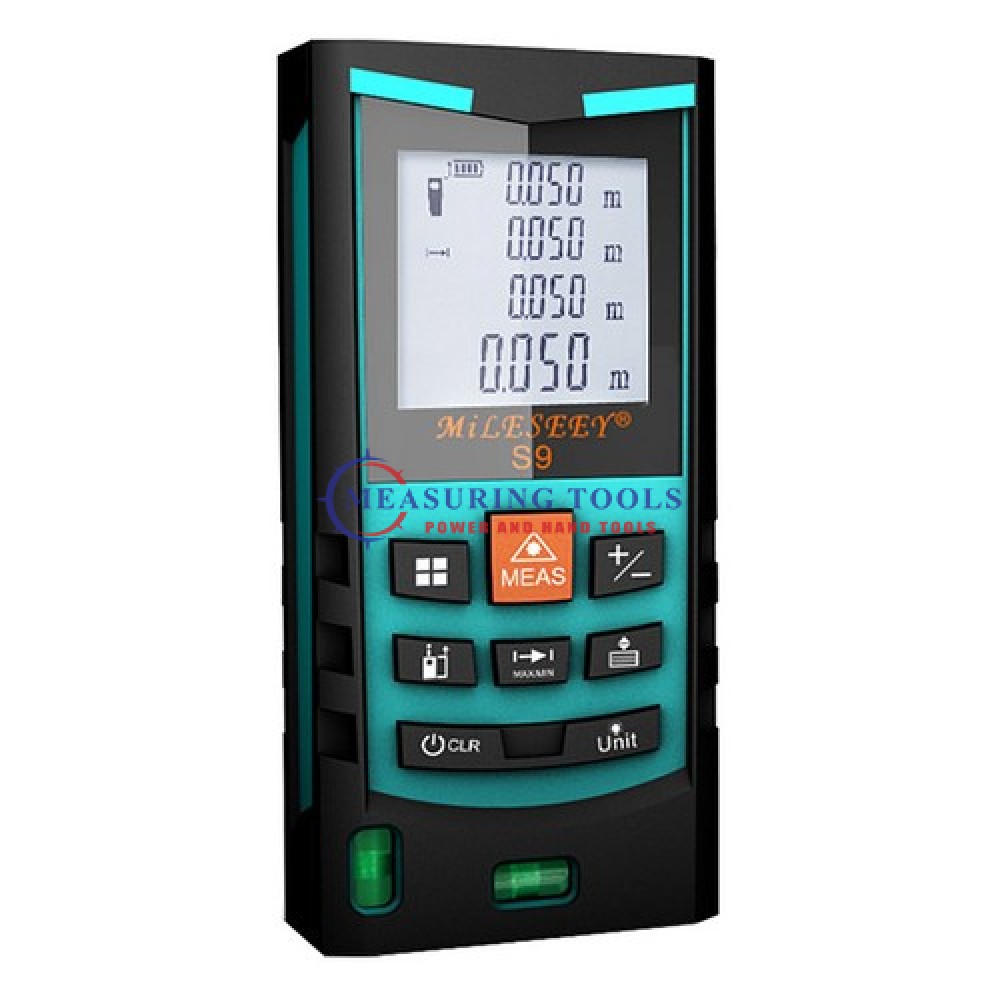 Mileseey S9 80m Laser Distance Meter Mileseey S9
Overview
Range: 80mMeasuring accuracy: ±1.5mm Measuring unit: M/in/ft/ft+in History measurement records: 20 4.5cm ScaleIngress protection from dust accumulation and water splashingSingle Distance Mea...
Range: 80m
Measuring accuracy: ±1.5mm
Measuring unit: M/in/ft/ft+in
History measurement records: 20
4.5cm Scale
Ingress protection from dust accumulation and water splashing
Single Distance Measurement
Continuous Measurement
Min/Max Distance Tracking
Area- Volume Calculations
Indirect measurement using Pythagoras
Addition/Subtraction Measurement
History measurement records
Buzzer indication
4-line display with backlight

Auxiliary leveling bubble: Always right-angled, always right. When taking indirect measurements, for example, Pythagoras, it is crucial to keep the laser beam right-angled to the object. The leveling bubble just helps you do the right things, get the right results.

Covered by soft rubber: Get hands on, feel the top-level comfort. Every inch your finger can reach is rubber. Every time your finger can feel is comfort. The top-class rubber materials and injection technology ensured an incredible touch feeling. S9's sleek, soft and adhesive enclosure set up the second benchmark for such a delightful experiences.

Enhanced robustness: Save worries, work your way. The beautiful ravines on the two sides of S9's body, was beautifully designed for skid resistance and buffering. It's not easy to drop, and it's not easy to break. The soft rubber is not only beautiful, but also useful, when it buffers impact and protect the components inside. And LCD cover lens saves the display from the impart also.

Multi-purpose end-piece: Make better measurements where you go. The end-piece is called multi-purpose end-piece because of its multifunction. Measuring in corners, in gaps, in aperture or from wet floor, mussy surface, the end-piece is always helpful. Which means, multi-piece assists S9 to measures distance to most of inaccessible positions and get the right data with no need of any other tools.

Hand-strap: Pause and resume, seamlessly. Take a measurement, calculate it, then take another measurement, and mark the distance on the object. You can just pause the measurement tasks at anytime, and keep the S9 distance meter at hand, and resume measurement tasks seamlessly. You don't have to spend time putting it aside and looking for it next time you want to use it. S9 is always at your hand and ready for you anytime, anywhere.